The National Hydrological Monitoring Programme (NHMP) have published a paper1 on the 2019/2020 floods in the UK in the Royal Meteorological Society's journal Weather. Between June 2019 and February 2020 there was a succession of severe flood events across the UK. In northern England, the Midlands and on both sides of the English/Welsh border many river flows exceeded their highest on record, and some defences were overwhelmed. The events during this period were especially notable for their widespread, prolonged and in places, repeated nature. A sister paper by the Met Office2 considers the role of climate change in increasing the likelihood of extremes of this nature.
The paper documents the events and asks how the floods in 2019/2020 compare with previous episodes, and whether these recent floods are part of an emerging trend.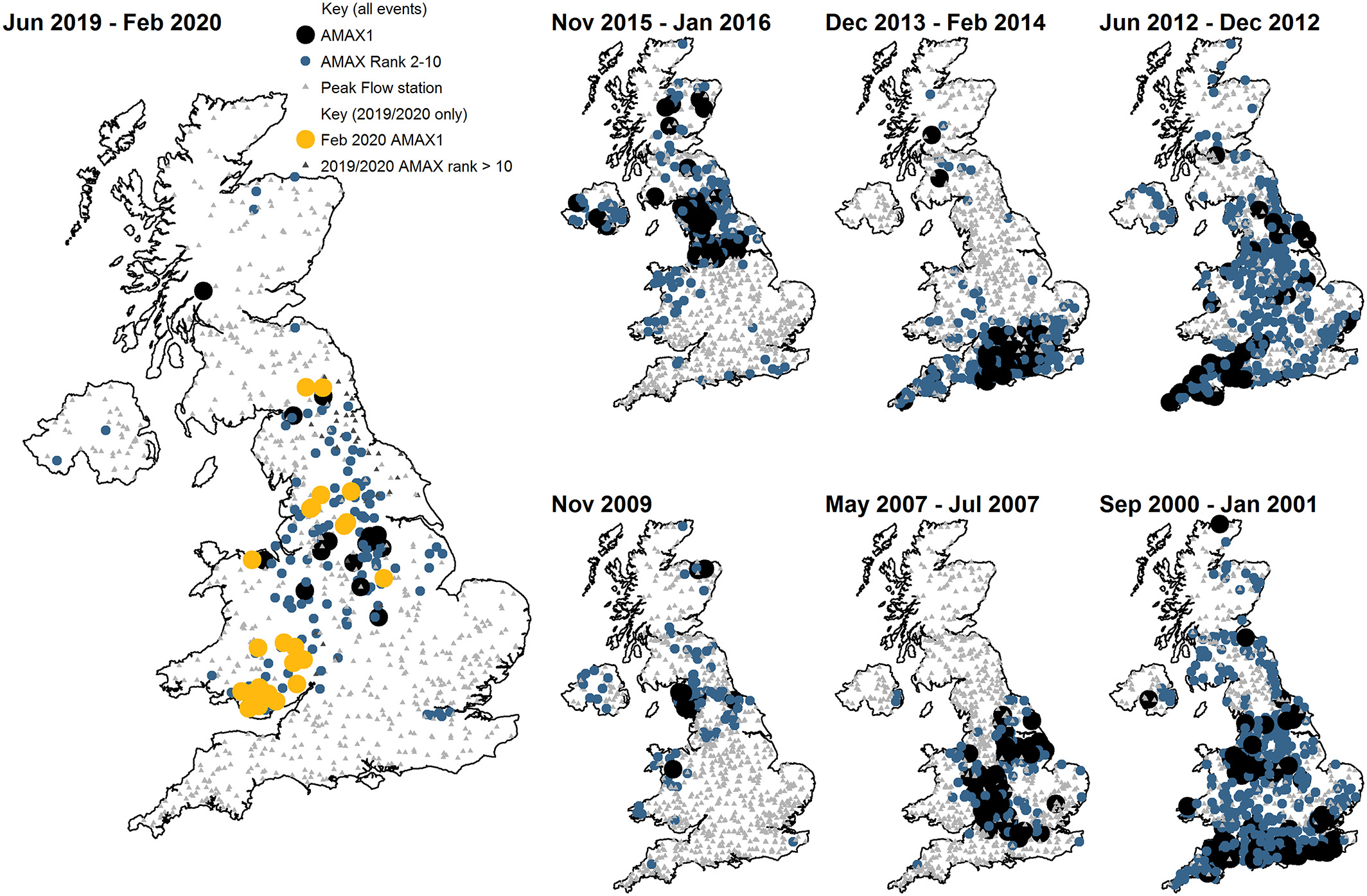 Figure from the paper showing the magnitude and spatial footprint of the events in 2019/2020 and previous major events in the last 20 years.
The NHMP is operated jointly by the UK Centre for Ecology & Hydrology and the British Geological Survey. The NHMP was set up in 1988 and aims to provide an authoritative voice on hydrological conditions throughout the UK and has a particular obligation to document major contemporary hydrological events and to identify and interpret long-term hydrological change and variability. Monthly Hydrological Summaries for the UK are routinely published as part of this programme, as well as Occasional Reports on major events.
1Sefton, C., Muchan, K., Parry, S., Matthews, B., Barker, L., Turner, S. and Hannaford, J. (2021), The 2019/2020 floods in the UK: a hydrological appraisal. Weather. https://doi.org/10.1002/wea.3993
2Davies, P.A., McCarthy, M., Christidis, N., Dunstone, N., Fereday, D., Kendon, M., Knight, J.R., Scaife, A.A. and Sexton, D. (2021), The wet and stormy UK winter of 2019/2020. Weather. https://doi.org/10.1002/wea.3955