We have been busy adding new datasets and making improvements to the UK Water Resources Portal. The new version is available now!
Access the UK Water Resources Portal

Things not looking quite right? Try Ctrl+F5 to clear your cache.
You can now view the entire time-series for standardised indices by clicking the 'All' button. River basin Standardised Precipitation Indices (SPI) are available from 1862, catchment SPI from 1891, gridded SPI from 1961, and Standardised Streamflow Indices (SSI) and Standardised Groundwater Indices (SGI) are available from the start of the record for each individual site – see About page for more information.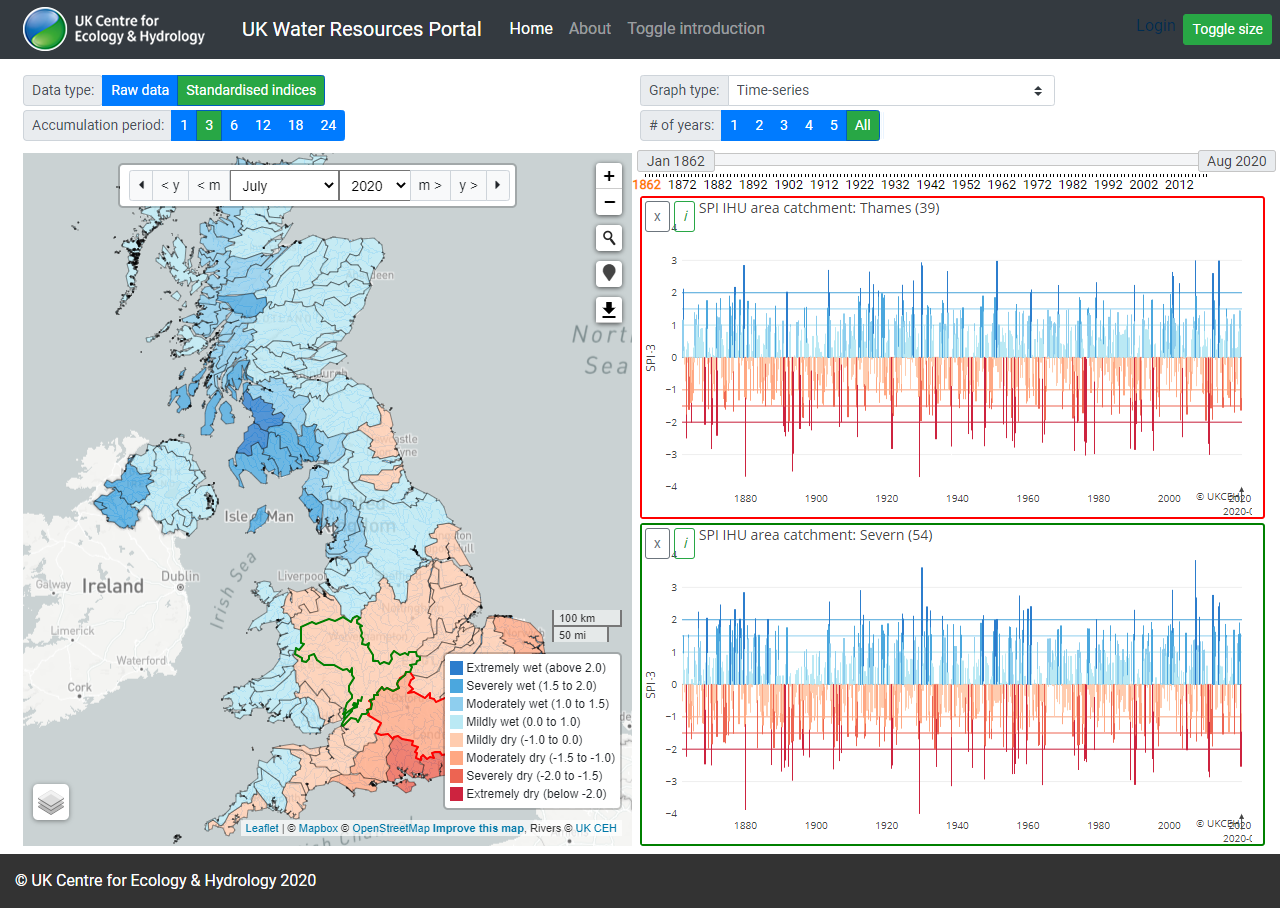 Other improvements to the SPI data visualisation include the rainfall SPI Integrated Hydrological Units (IHUs) areas changing to groups as you zoom in further and it is now possible to plot rainfall SPI for each 5km grid cell. Furthermore, monthly rainfall observations for IHUs are now available to view on the portal.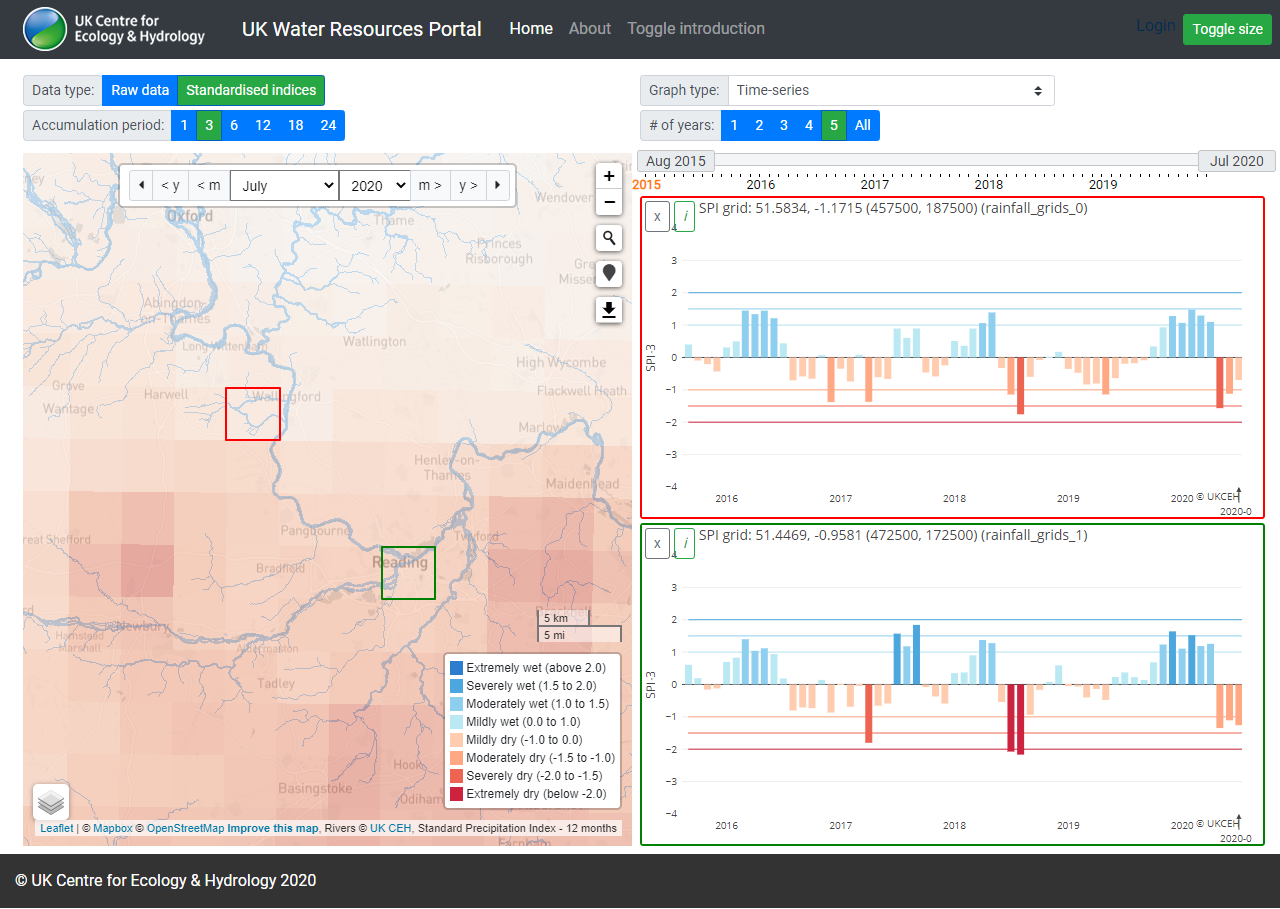 We have also added a colour changer button, which toggles between the familiar rainbow key and a new red–blue scheme for a colour-blind friendly option.
You can now change the layout of the map and graphs using the Toggle size button (in top bar – (a)). This switches the layout so the map and graphs are either side-by-side, or full-width above and below. We have also added station lists for each dataset on the Portal, so you can quickly find the particular stations you are looking for (b). The button in the datasets menu (bottom left) allows you to scroll through the whole list, search by station number or name, plot the graph or download a csv of the standardised indices csv data.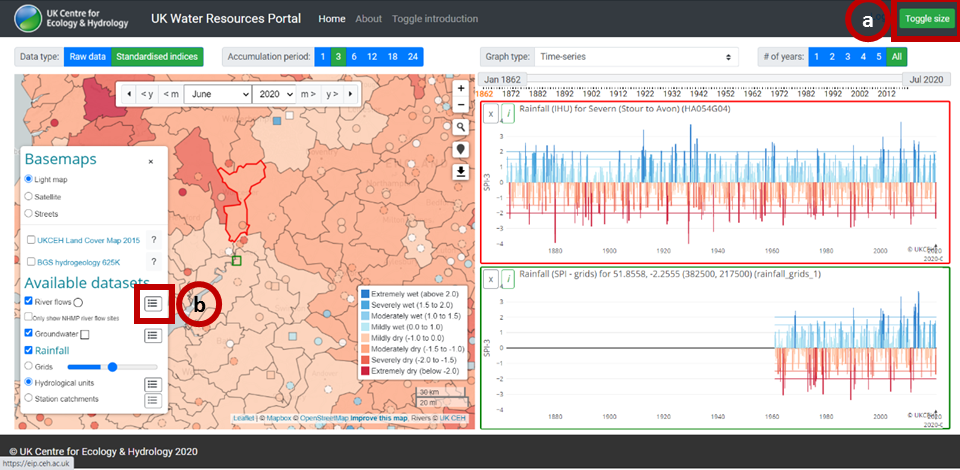 There is a video of how to use the UK Water Resources Portal and more information on the portal About page, including the datasets and methods used.
The UK Water Resources Portal is a unique web-based system for tracking the hydrological situation in near-real-time. It offers dynamic, interactive situation monitoring, mapping and plotting and a wide range of variables including rainfall, river flow, groundwater levels and soil moisture measurements (from COSMOS-UK). Near real-time river flows across England are fed in from the new Environment Agency hydrological data service and rainfall data is provided the UK Met Office.
The portal is aimed at anyone with an interest in current water resources situation or drought conditions. The primary focus is for water resources and drought applications, but it can also be useful for tracking river flows and soil moisture in real time in order to provide an indication about high flows, as well as low flows.
The portal collates data from a variety of sources, including the national measuring authorities for river flows and groundwater levels: the Environment Agency (for England), the Scottish Environment Protection Agency, Natural Resources Wales and the Department for Infrastructure - Rivers in Northern Ireland. A help video, below, takes you through its features.
If you have any queries or feedback on the UK Water Resources Portal, please contact us.