The National River Flow Archive (NRFA) has released a new public search page with several improvements over the page that was under heavy use for a number of years. The page is intuitive and easy to use, yet we want to highlight some of the key features here. The new page is available at http://nrfa.ceh.ac.uk/data/search. Some hints and tips on how to use the new search page can be found below.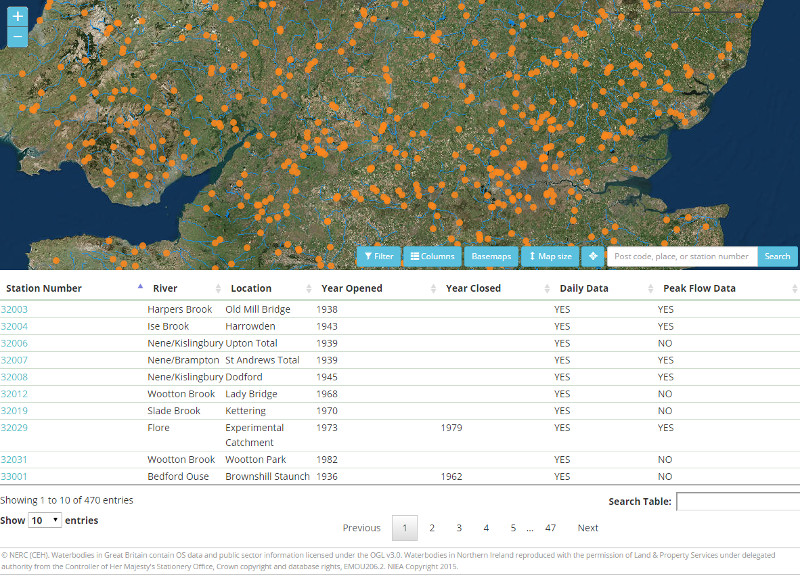 The map component has been enriched with the options to choose from a range of backdrop maps (so called Basemaps).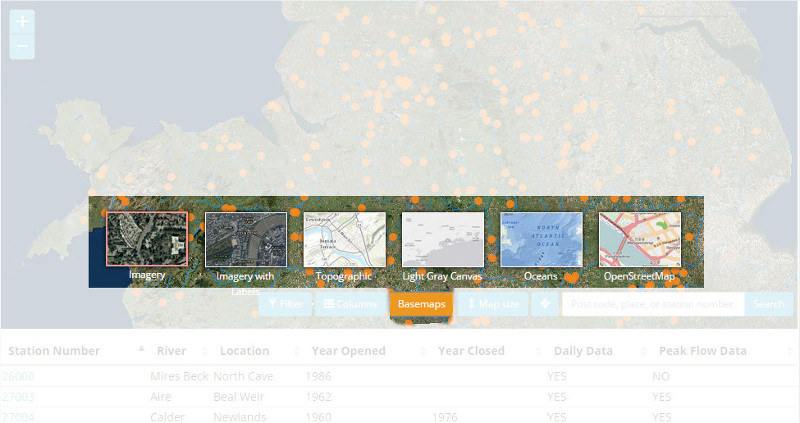 The new filtering mechanism offers flexible options for narrowing down the stations displayed and contains wide range of parameters to filter by. For example: you can find stations which provide Peak Flow Data, those with a catchment area of a certain size, or those of a specific hydrometric type. You can bring up the filter controls by clicking the "Filter" button.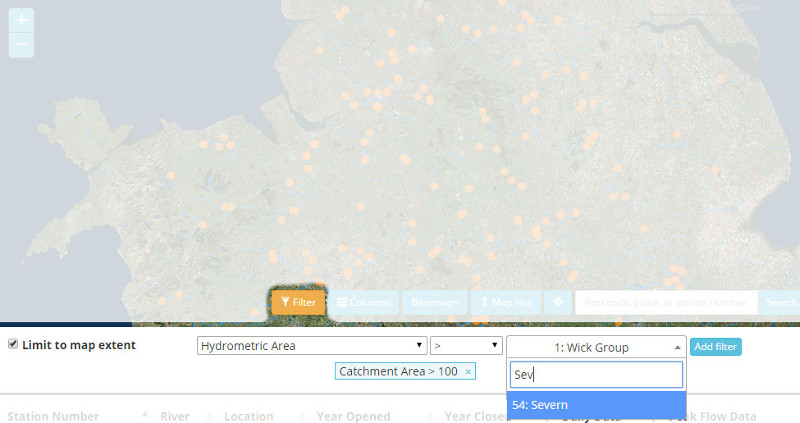 When you first load the page, the map and the table are synchronized. All stations in the map are included in the table and all stations in the table are visible in the map. In other worlds, the search results are limited by the map extent. This behaviour should be suitable for most situations, but it is not ideal for certain types of queries. You can change this behaviour by switching the "Limit to map extent" checkbox that appears on the left side when the filter panel is displayed. If this option is unticked, the table will contain all stations that fulfil the specified filter condition and the map extent will change to show all these stations in the map.

A subtle control that adds useful functionality is the little "Search Table" box underneath the table. When you start typing into the search box, the table will show only rows that contain the matching string. However, this table search box does not affect the content of the map!

Another major improvement over the previous version of our search page is that now you can choose columns that should be displayed in the table. Simply click the "Columns" button and tick the columns you want to see. By default, rows in the table are ordered by Station ID but a single click on any column header will sort the table by that column.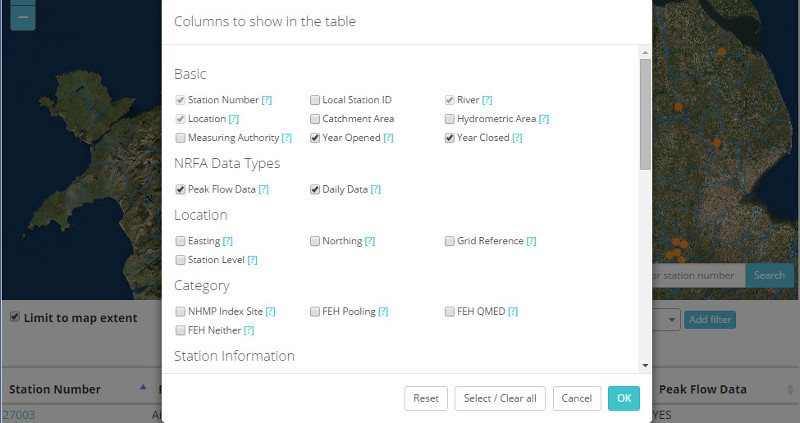 If you need to see more of the map, click the "Map size" button to make the map larger. Clicking the "Map size" button again will reset the map to its original dimensions.

We value comments from our users so feel free to email nrfa@ceh.ac.uk with your experiences with our online services and suggestions for possible improvements.
And finally, a goodbye to our old search page that served from 2008 until October 2015: